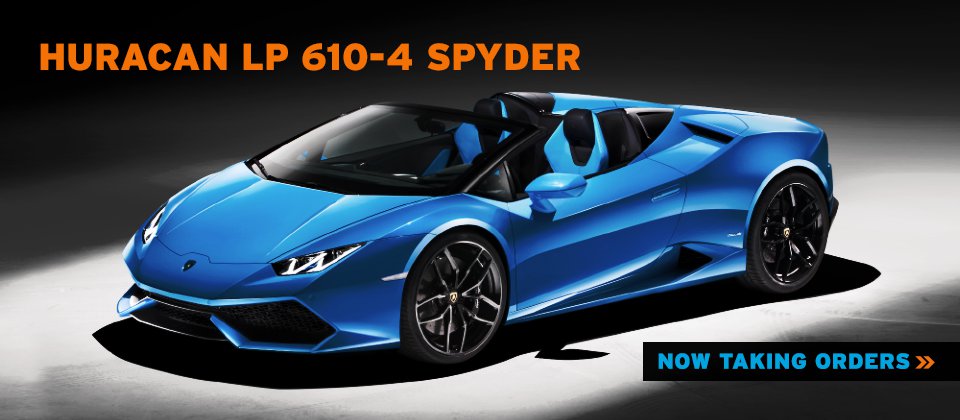 Design Your New LP 610-4 Huracán Spyder Now at N. Los Angeles Lamborghini Dealer
Few vehicles can be described as the quintessence of a brand, but the LP 610-4 Huracán Spyder embodies the Lamborghini philosophy. Continuing a lineage of naturally aspirated V10 Huracán, this model comes with a 5.2-liter ten-cylinder achieves 610 horsepower and 413 lb.-ft. of torque.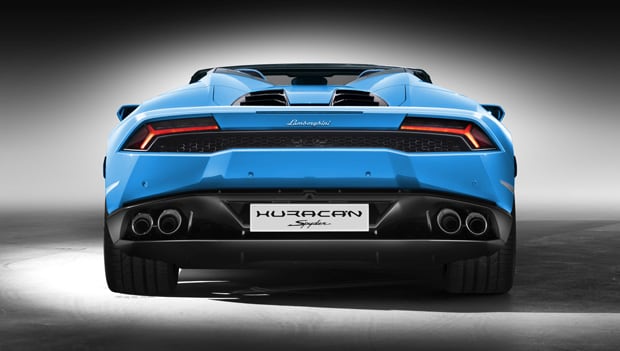 It affords only the fortunate few an opportunity to relish the open air with great power, stability, and aerodynamics.
The Huracán LP 610-4 Spyder is the progeny of the Gallardo Spyder, Lamborghini's best-selling open top model. It is the natural progression in engineering, offering the performance of a coupe now coupled with state-of-the-art technologies and a new element: an emotional dimension. 
This is accomplished through unique features that make this Spyder distinct from its predecessors.
Electrohydraulic, lightweight soft top (available in black, brown, and red)
Advanced aerodynamic solutions for maximum open-top comfort
"Cylinder on demand" and "Stop/Start" technology optimizes efficiency
Form Follows Function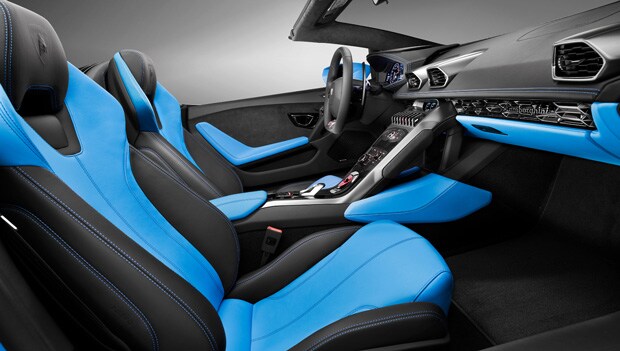 Exceptional dramatic visuals are the product of Lamborghini's design language, and it realizes this vision without compromising the utility of its architecture. The most noteworthy added feature is the Huracán's new soft top, which efficiently utilizes space when down-as well as provides an equally impressive profile whether positioned out or away. 
Within 17 seconds, a driver can enjoy the exposed skyline and amplified engine notes that make for an unrivaled experience behind the wheel.
If it's a sultry and powerful form you appreciate, the low, forceful stance of the Huracán LP 610-4 Spyder is one to seek. 
The discernible forms aren't the only to appreciate. This new iteration of the Spyder can seamlessly reach its top speed of 201 mph with the buttery smooth Lamborghini Doppia Frizione 7-speed dual clutch. 
And with fully electronically controlled coupling, actively cooled for maximum performance, the Huracán LP 610-4 Spyder freely switches torque between two axles for perfect weight distribution (43/57 front/rear) and unwavering center of gravity.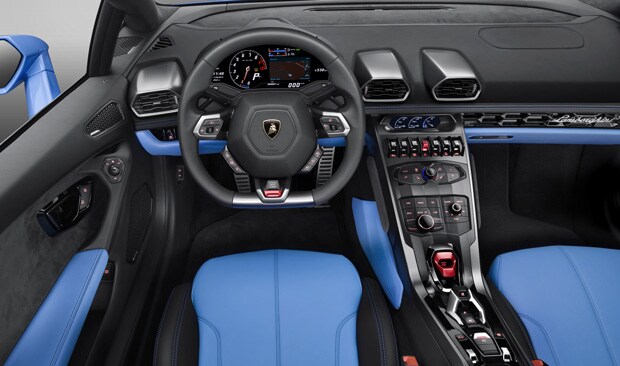 Other features may pique your interest, including:
Three Driving Modes: Strada, Sport, and Corsa
Carbon-ceramic brake system
Lamborghini Dynamic Steering
12.3-inch TFT display with multiple configuration
Alcantara and fine nappa leather
5 trim choices and 17 interior colors
There is much to celebrate in the Lamborghini Huracán Spyder, and we encourage you to contact our dealership for more information regarding this exhilarating new model.