Lamborghini Celebrates 30th Anniversary with Spyder Supreme Diamond Cell Phone!!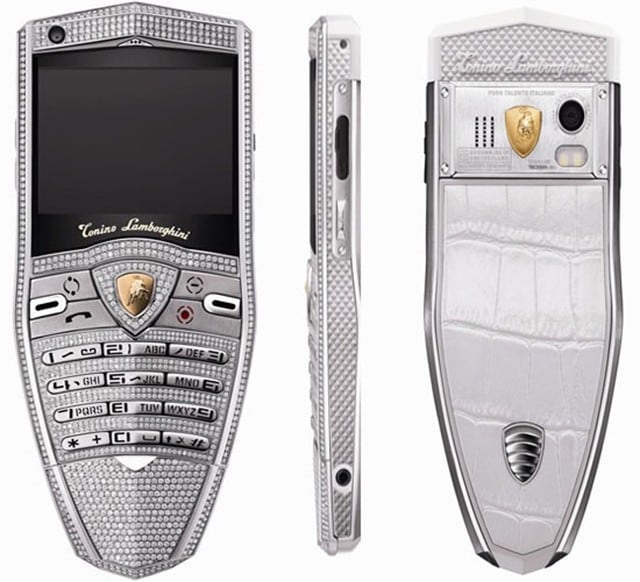 Lamborghini has designed a limited edition Spyder Supreme Diamond Cell Phone, to celebrate the 30th anniversary of the exotic automaker's fashion line. The super luxurious cell phone dazzles with bling and is considered one of the most high-end accessories available.
Everything about this cell phone is astonishing. Italian designers crafted its stainless steel body and sent it off to be finished in Switzerland. Once in Switzerland, the Spyder Supreme Diamond Cell Phone's casing was studded with a total of 7.8 carats of diamonds. On the center of the front and back panel, as well as between the speaker and camera flash, Lamborghini's monograms are featured prominently in yellow gold, and the battery cover is finished in crocodile leather print (available in black or white). Durability is important - the front cover is made from sapphire crystal, making it resistant to scratches and it helps keep handset dust free.
The Spyder Supreme has every technical feature you need to stay in touch. The Spyder Supreme comes with a 2.75G dual-band operating capability on GSM 900 and 1800 networks, an external 4 GB memory support, 3.0 megapixel camera with auto-focus, an a SOS signal button for emergencies and a 2-inch mini LCD display screen (240 x 320 pixel resolution).
Only 300 of the beauties are being made, in S650 and S660 versions. The cheaper of the two is the S650 model, which comes adorned with 2.5 carat diamonds, a black leather back and a price tag of $10,000. For $16,419 you can pick up the S660, which comes with 5.9 carat diamonds and a crocodile leather back. What an amazing phone!
To learn more about Lamborghini of North Los Angeles's Inventory Contact us Today!!